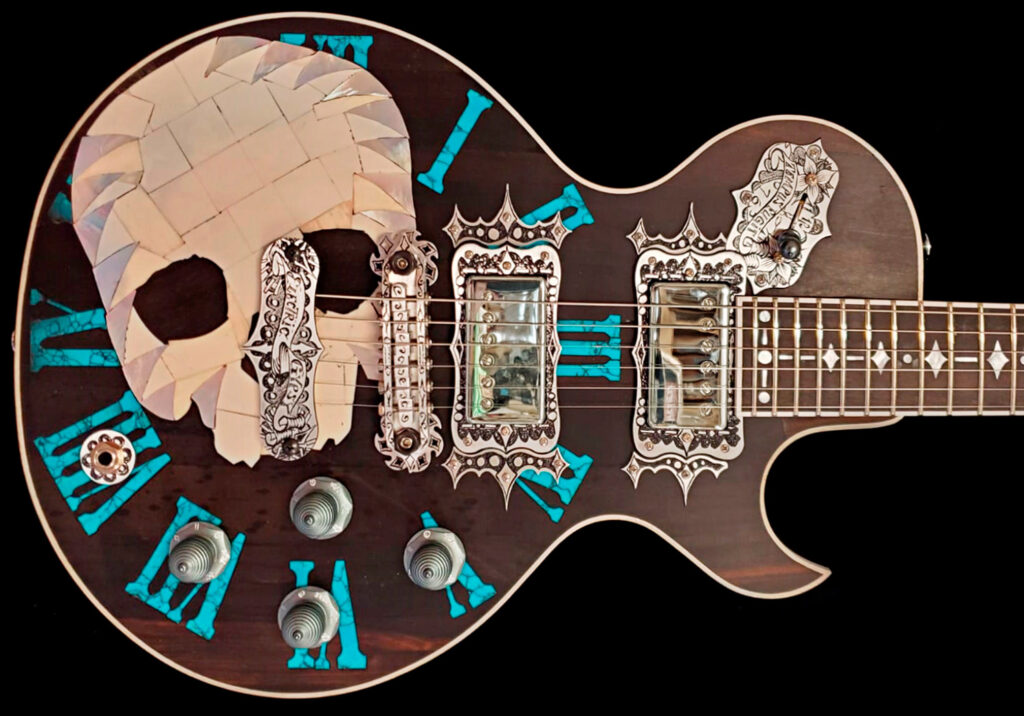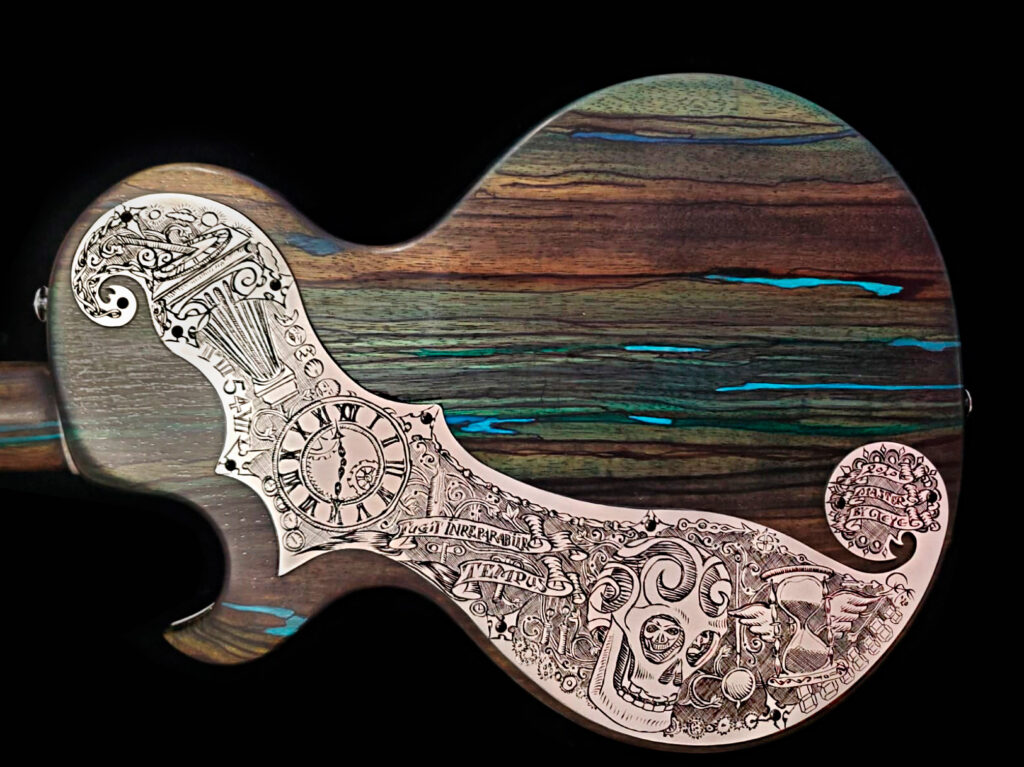 Tempus Fugit.
I'd been working on the idea of a skull guitar, but I wanted it to be special. With a stunning collection of ebony that a friend brought from Africa (with me nowadays in southern Spain, that is but a short jump) and pure white bone (that I both was reserving to make my chess boards with) I went to work, and was looking for a way to make that skull more 3-dimensional, to add visual depth to it. I had just enough pink Mother of Pearl left to pull this off convincingly, and after a week of my nose (and the ebony, the bone, and the MOP) to the grindstone, I had a top that I was happy with.
Then came the engraving, in which I again looked for the non-traditional. Skull is of course the international symbol of Pirates, Motorcycle-clubs and persons who wish to appear tough. Fact is also that every living creature has one to protect the body's command center. In other words: it is a recognized symbol of death, but also of life
Then the dreaded Corona-virus struck and all of a sudden we were in lockdown in Spain too. The question of time, life, and death became a central topic in all of our lives. So I read a little more about the philosophical aspect. 'How much time do we have?' and what are we gonna do with what we have? People have been pondering this forever. The latin phrase 'Carpe Diem' (Pluck the day) or more poetic 'Valuable time when you don't use it well, escapes'. A more positive look on 'Memento Mori' (remember: we will all eventually die) could be 'Memento Vivere' (Don't forget to live) and this was so well phrased by the influential Roman poet Vergilius https://en.wikipedia.org/wiki/Virgil who said it thusly: Fugit inreparabile tempus (line 284 of book 3 of his poem Georgica) "Irrepairable/Irretrievable time, it flies away." Suddenly a motive for immediate thought.
Now, I have always firmly believed in the accepting of all opportunities. I once described 'success' as a train that passes by the station, with one door open. Are you gonna jump in? Or are you gonna stay behind? I used to keep a packed suitcase at the house, ready for anything. Now, how to capture that in a rear plate engraving?
Center-piece became a skulls-inside-skull motive: a skull caught inside another skull, and behind the eyes two more skulls: one smiling, celebrating life, the other crying, remembering it is all very temporary.
Together with my LVPVS SOLITARIVS I have updated this TEMPVS FVGIT guitar in June of 2021 with my newest latest construction upgrades, construction materials, and electric circuit, and the difference was immediately noticeable:
More bite;
More note definition;
Better note-to-note separation;
And thanks to the JuJu circuit a more natural transition to, and more usable sounds from, the 'thinner' settings. To use the words of a virtuoso friend of mine who now owns my best-ever 'La Llama' guitar, the 'Three Sisters' #A-028: "She can sound just like a Telecaster"! Which is not what you'd expect from that guitar.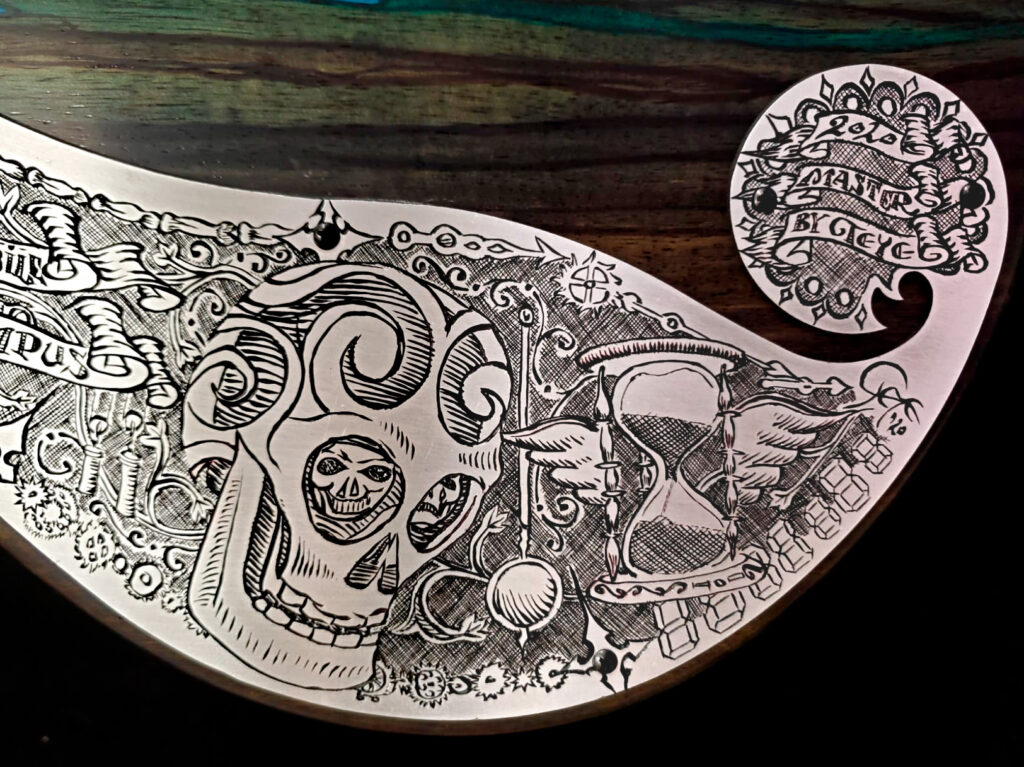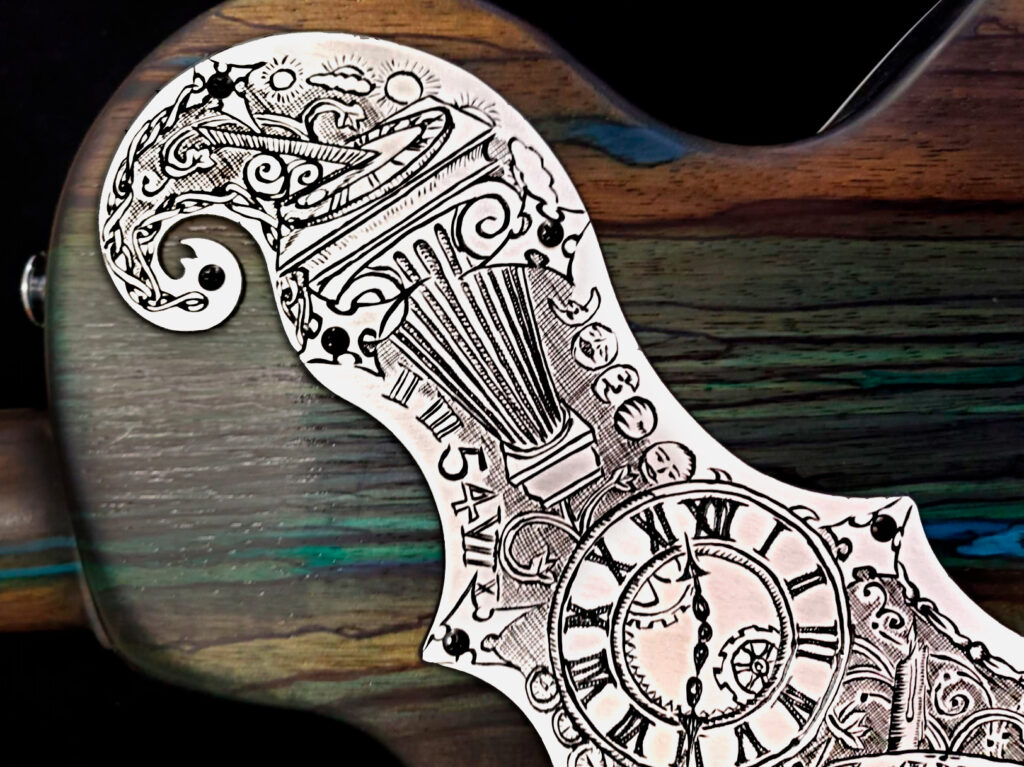 Then came all the other elements of time-keeping. A clock, an hour-glass with wings, a sundial on a pedestal, parts of clocks, loose hands, gears, digital LED-blocks, the sun in various positions, the moon, a pendulum and clock weights on their pulleys, burning candles. The words 'Remember to Live' adorn the headstock.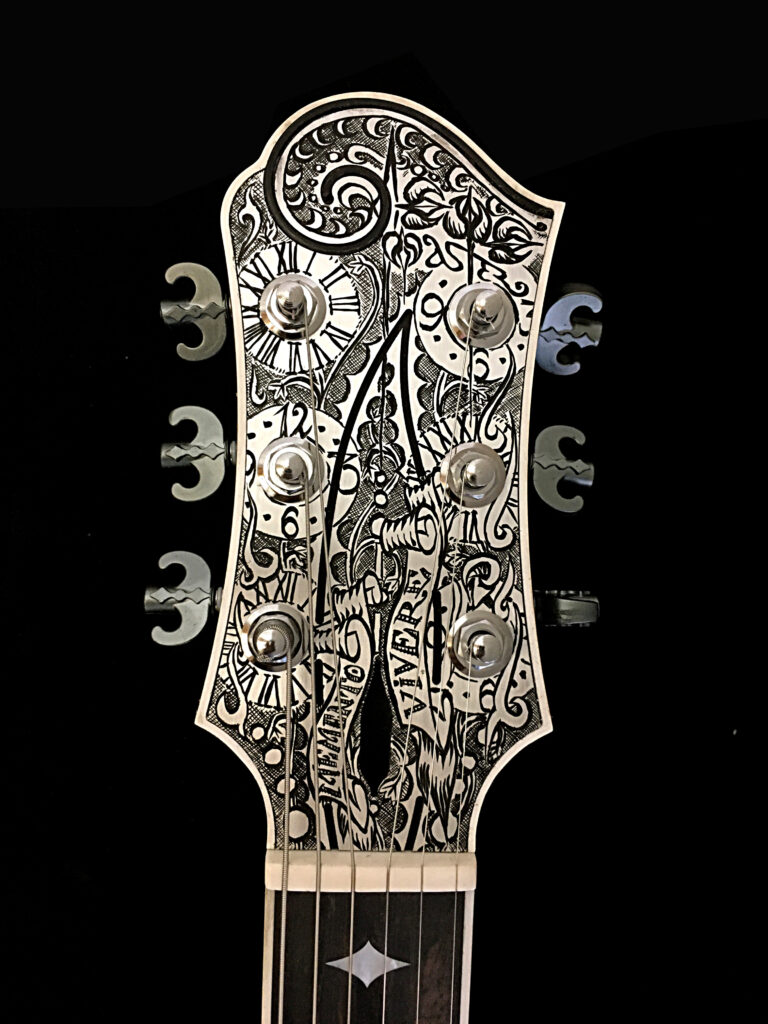 Then I inlaid the face of a clock in roman numericals around the bridge and string block in turquoise. I left the ebony pretty raw in all it's majesty.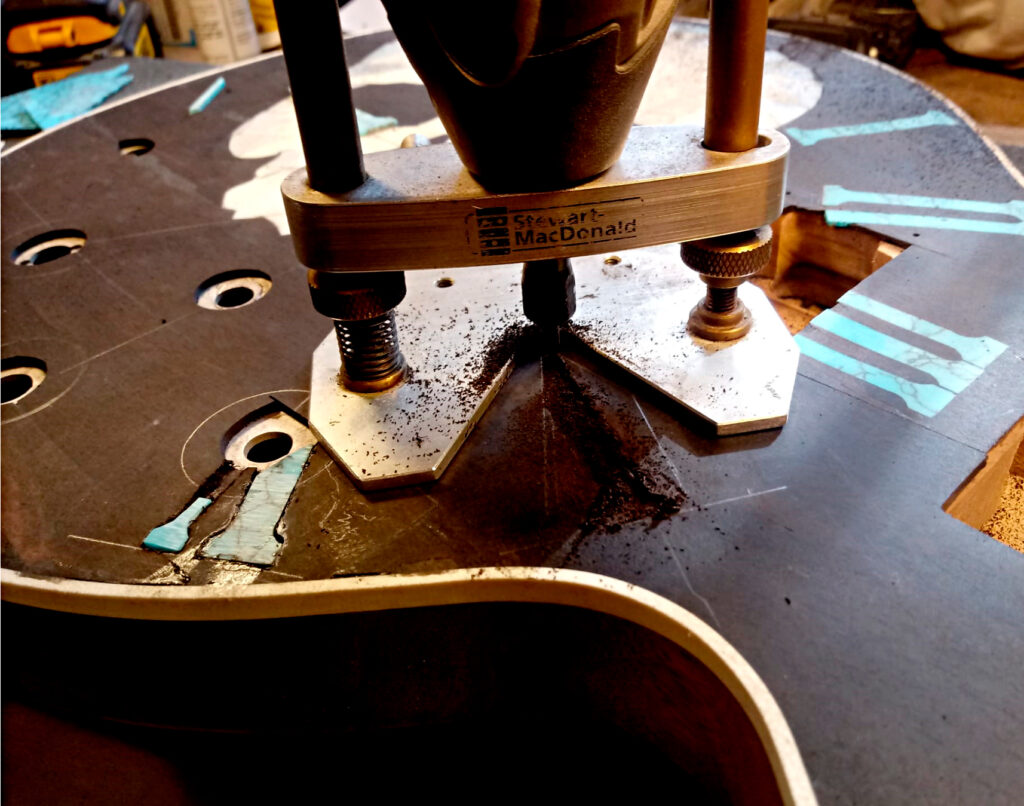 This guitar is a symbol of hope. And a reminder to live, to act, not just to dream and talk.
Because Fugit Inreparabile Tempus!