1981: The FIRST-EVER Teye Guitar?!?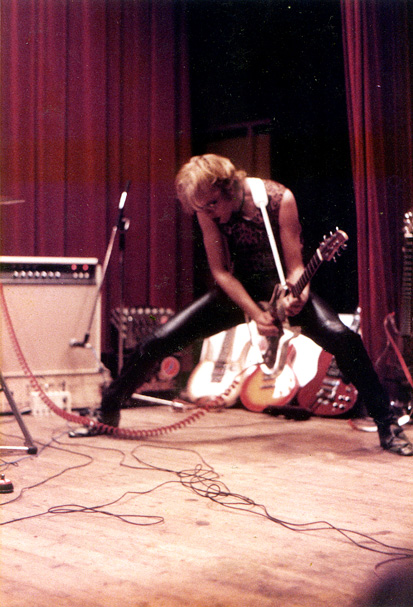 Back in those glorious days I had hair, was slim as a phantom, and I was a reasonably gifted guitar player, dreaming as the song said it: "of rock 'n' roll, guitars, I was pretty much after their 1969 hit 'Honky Tonk Women – (where they debuted their twin guitar attack of Keith on the open-G 5-string and Mick Taylor's virtuoso sounds) a Fan of the Stones, and then I bought a music magazine that featured a pic of an evil-grinning Keith, with a guitar made of glass!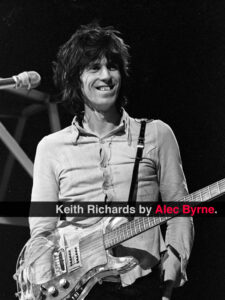 I had never seen a guitar this cool and that guitar was love at first sight for me. Now back in those pre-internet-days, it was not easy to obtain information… Little by little I found out that it was a clear plexiglass instrument, designed by a certain Dan Armstrong, and made by the same company that built that big wall of amps behind Stones, Faces, and others: Ampeg.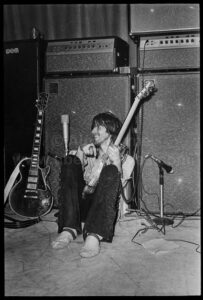 My life went on, bands came and went, my guitars were -as soon as I could afford- Gibson.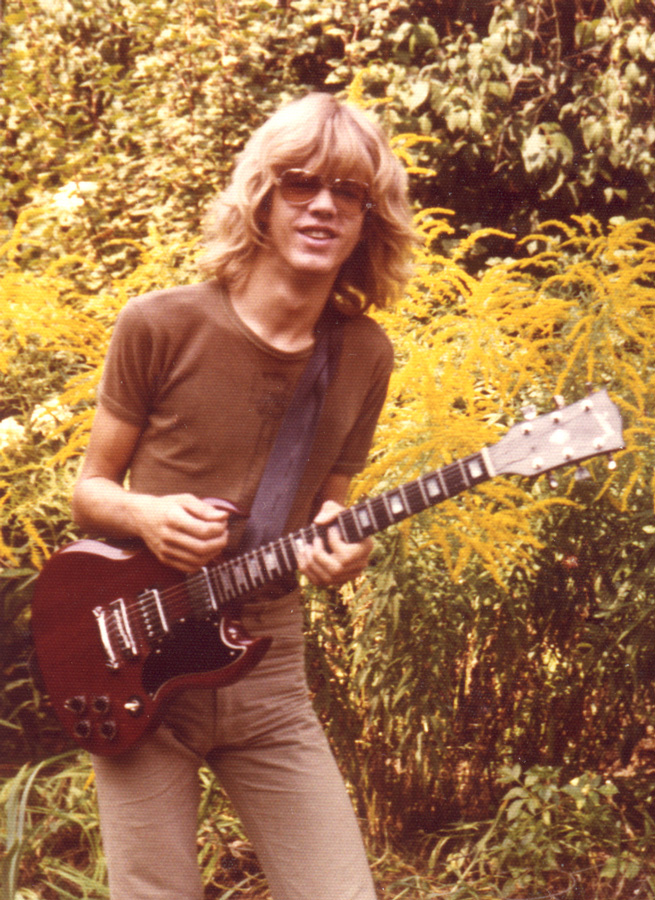 I tried to make it as guitar player in far-away London, but that was when Punk hit ("We don't need no bloody guitah-sohloos") And then I hitch-hiked to Paris. Met and talked to a German classical violinist who was busking in the Metro (subway) and he gave me his couch for the night. Early next morning I got some coffee and croissants, and this guy lived in the heart of the music shops district (9th arrondissement) so while looking for coffee, my eye caught a shop window proudly displaying… a guitar made of glass… My heart skipped a beat. Now in the USA this would have been normal. But at the time, I lived in the Northern (Viking) part of the Netherlands where such a thing simply could never happen! I recall the music store: 'Daddy's Musique' on the Rue de Douai, when they opened I was there and held for the first time my dream guitar. I quickly became friendly with the owner, a bearded man clearly still from earlier, friendlier times. He let me plug it in, saw my despair upon hearing the price (US$ Unobtainable) (well nowadays I'd have pulled a credit card but not then. Not yet) and assured me I could, for as long as I was in Paris, come by as often as I wanted and play. OK I played well and I played loud, so it also served as a draw for his shop. But still.
About a year later, my Gibson SG in its case fell on the floor of a public transport bus and of course, the fall snapped the headstock right off the neck AND broke the neck-to-body-joint. I collected the insurance money and called Daddy's music, in vain. Then I found an ad in England's Melody Maker magazine, called and traveled by train and boat to London to pick up the advertised guitar. The guitar (serial number A-1001-D, with a CB or 'Country Bass' pickup installed) Once home, I played for 8 hours straight thru, I simply was in love. She immediately became my number one guitar, and I started worrying about a similar break as on my Gibson. Silly, this guitar has a Maple neck vs the SG's Mahogany, but it's the thought that counts… Well, about half a century later I actually sold her to a Japanese guitarist, who was very happy! Back to the seventies: I'd gotten from Ampeg the phone number of a shop in New Jersey that had bought all remaining parts stock, and I purchased a lot of parts from them: an extra pickup module – Rock Treble, a spare neck, spare pickguard, volume and tone knobs, and much more. So all of a sudden I had a complete second Dan Armstrong guitar, minus that plexiglass body! I got a hold of a rectangular block of plexiglass of the correct thickness, and my father and I together made a body from that block! Some of it with hand routers, but most of it with hand tools. I recall me rasping away on the 24th fret access cutaway slant with a file, and getting a big blood blister. At which point my father said: "Son, go swim, I'll have this done when you get back." Now remember, this guitar was to use so that the original wouldn't be exposed to the risk of breaking! Nuff said when I tell you that I sold the original and that the one my father and I made hangs here next to me. We finished her, polishing the body and assembling her, as the sound of another great new Rolling Stones single hit the workshop ('Start me Up') How Appropriate! 1981 all this. And even the buffs could not tell the two guitars apart. Ours sounded a little bit better, because the plexiglass was a little stiffer. Plus probably the tolerances were tighter, being all hand-made to fit.
Today, in the age of cellphones and digital cameras, it is hard to understand that we did not chronicle this project extensively with photographs! But back in 1981, taking pictures involved loading film into a camera, then developing and buying prints. Yes I regret not having done this, but, the actual guitar was our focus and we simply did not take pics of the building process. The memories are no less vivid!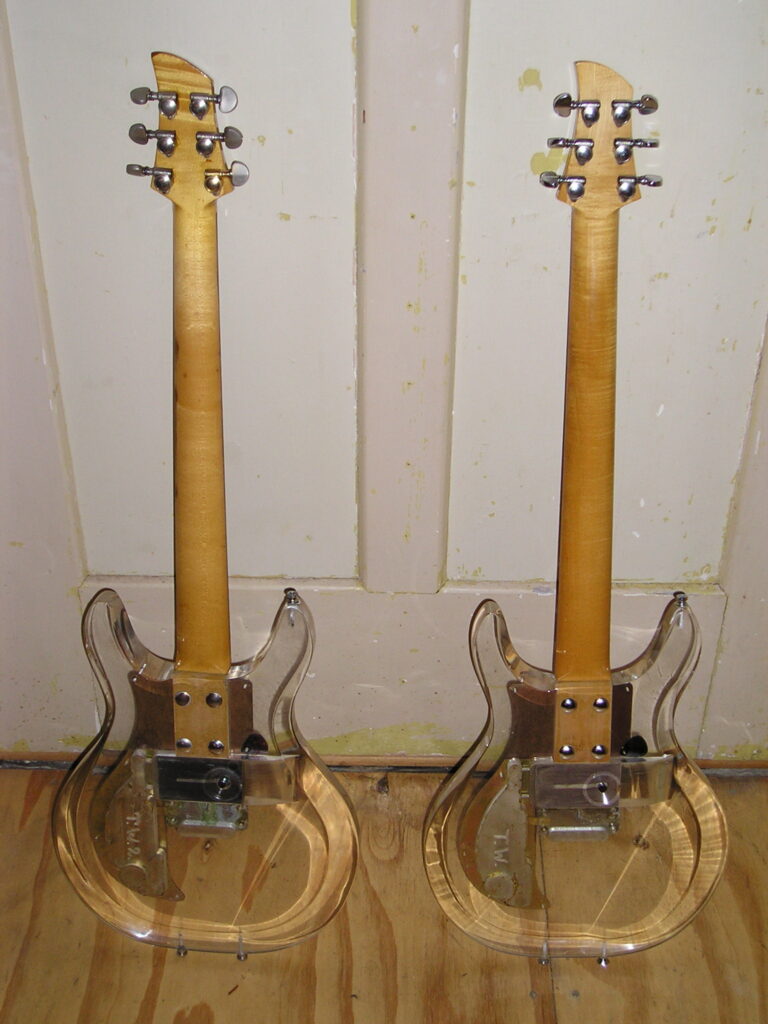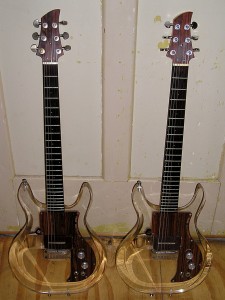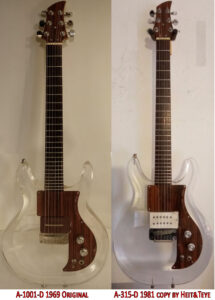 So not only do I have a 1981 Ampeg Dan Armstrong (a guitar that was in production in 1969, -70 and '71 only, plus some later 1999 and 2005 MIJ 're-issues') she is also in a way the very first ever Teye guitar. And I later did put a MOJO-circuitry in (there simply is not enough space for a full Ju-Ju circuit!) and made a 'white humbucker' for her. (In the ealy 2000's, Dan's son Kent made me two humbucker pickups after the old ST specs, and For a while I had an original ST humbucker too) and funnily enough only w that home-made white humbucker did she sound anything like the old Keith guitar (he actually had 2: one w the white humbucker plus one with a brown production pickup) I once read an interview w. Keith who said that Dan Armstrong presented him with a clear guitar and that it was magnificent. That he then later bought another, a regular production model, and that it had nothing to do with the quality of that first one. It is well documented that Bill Lawrence helped Dan in developing the original six slide-in pickup modules, the RT and RB Rock Treble and Rock Bass, the Jazz- and Country Treble and Bass, and that Dan made the humbucking Sustain Treble (ST) all by himself. So I'm guessing that the white/greyish humbucker in Keith's favorite DA was a prototype by Dan. There are a lot more photos (not counting the re-issue-guitars that he and Ronnie later used) of Keith playing that white humbucker guitar, than the brown pickup production one. I still have a 1969 RT and ditto CB, and sold the 1971 ST that I once had. But the 'white humbucker unit' that I made using a Creamery Wide Range Humbucker, and a piece of plastic from my son's toy racing car, absolutely takes the cake!