This, my second Gypsy Arrow – again, just made out of inspiration, and as it turned out, for myself. I had bought for myself the 'Vampiresas' Konstantinopolis but as this Scheherazade Arrow was taking shape, and a buyer for the Vampiresas announced himself, I simply swapped this one for the Konstantinopolis, in mid-work on both of them, and now… I have TWO Gypsy Arrows!
And then she was ready, just in time for the December 2015 Art Show of Teye's guitars in the prestigeous Rymer Gallery of Nashville, Tennessee, where she was lauded as highly original and absolutely gorgeous: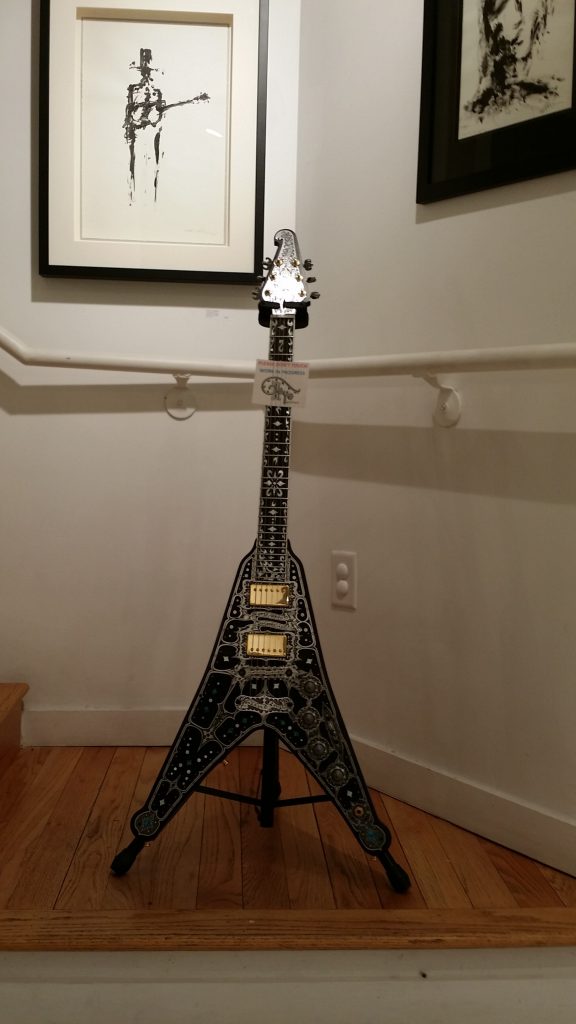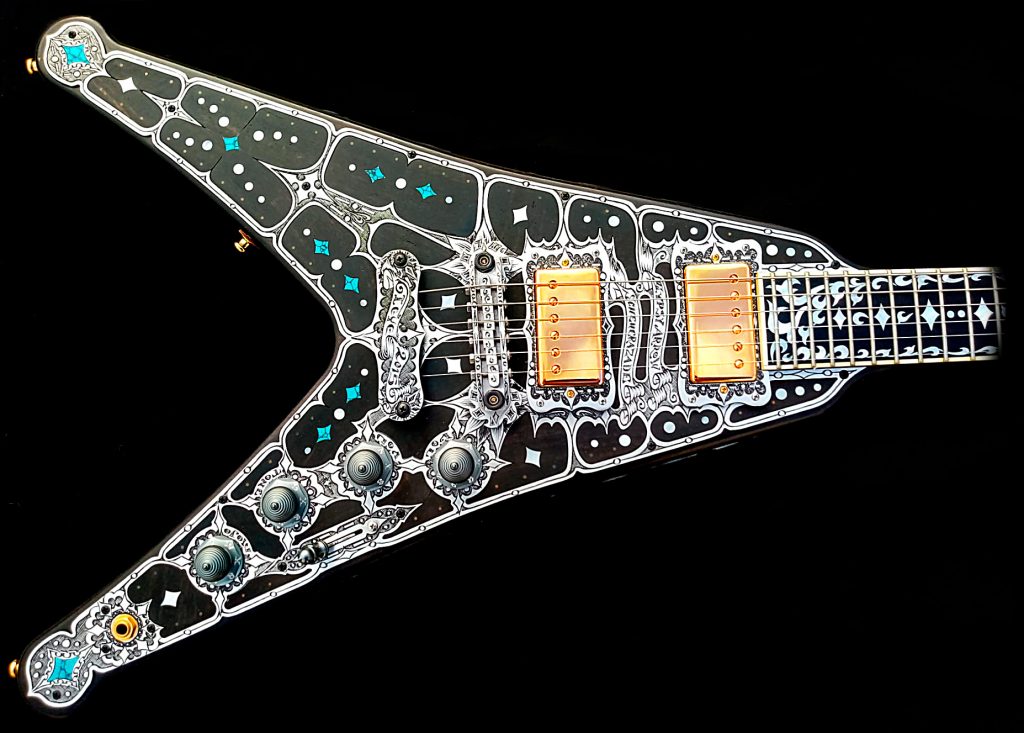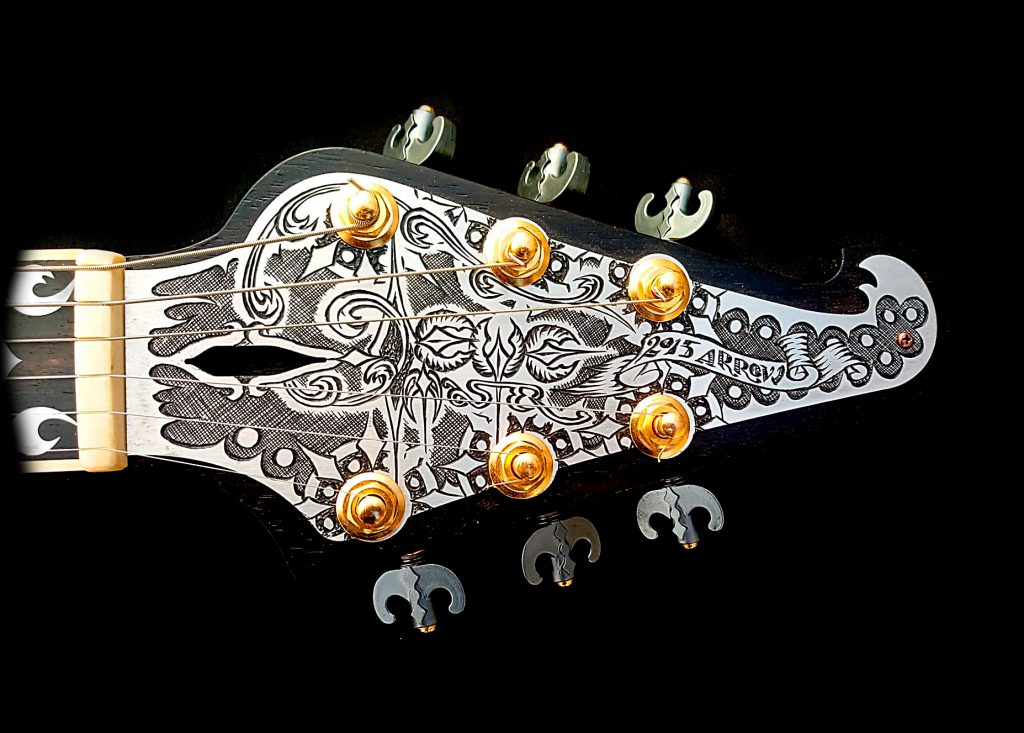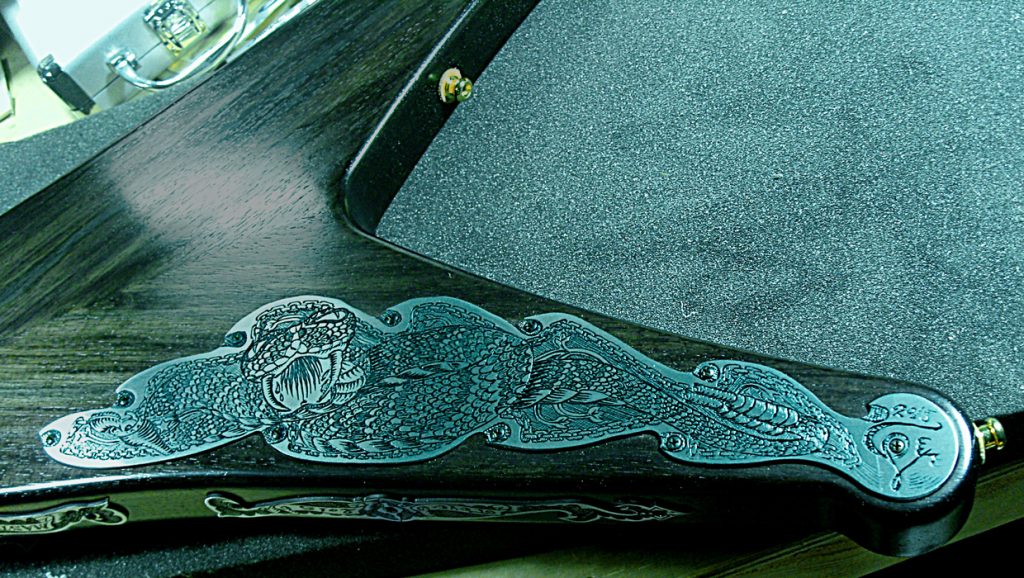 This guitar in action:
And read the (Emperor, but still) excellent Guitar Player review of the Arrow here: https://teye-master.com/wp-content/uploads/2014/12/2015-GPM-Arrow.pdf
The full story:
Well the story of the black Gypsy Arrow "Scheherazade" is in fact totally intertwined with the story of the Gypsy Arrow model in general, and also with the story of my company and of my life.
Allow me to paint the situation: it is around 2013, I have been building my A-series (what we now call Masters) in my shop outside Austin for many years. My former record company boss and good friend Evert Wilbrink is running the business from his home in Nashville. We have found and signed with investors from Dallas, something we deeply regret in 2014 because the contracts were sophisticatedly written and we had in effect lost our company for little money. Ever since Keith and Jimi wielded them I have always been a huge fan of the Gibson Flying V, (based on looks) and then, after I acquired a few, also on basis of resonance and sound. And I had always wondered if something more 'feminine' could be done with that model… Then, in late 2014 I woke up from a dream in which the Gypsy Arrow design presented itself to me. About a month later I had her all drawn up and designed and started cutting wood. Many weeks of fine-tuning, gluing sanding etc later, she was actually a guitar (albeit without frets so far) and I quickly mounted a tail, bridge and some tuners, so that I could string her up for a first impression.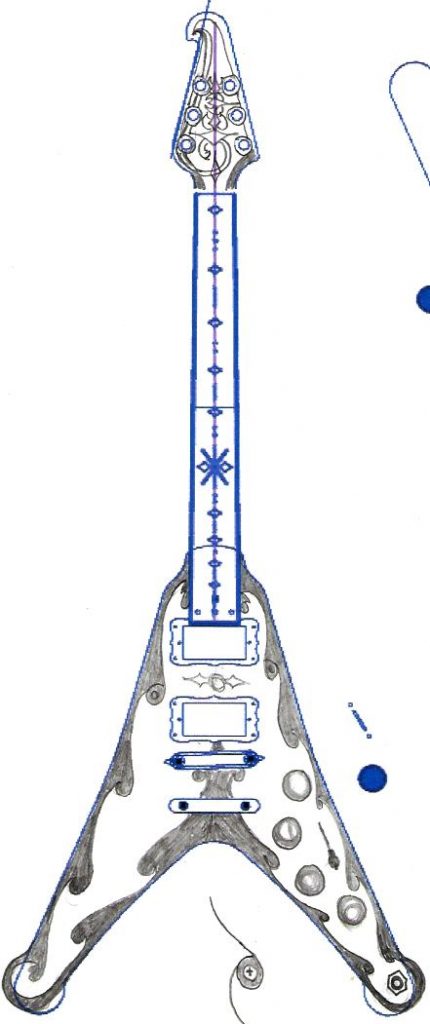 The resonance was impressive, even if I couln't play her for lack of frets. But still: rrring rrring went the open strings. There was a serious flaw in the cutting of this first one, so I could never sell her, but I decided to make her as a prototype anyway and simply keep her for myself. Sacrifices have to be made!!!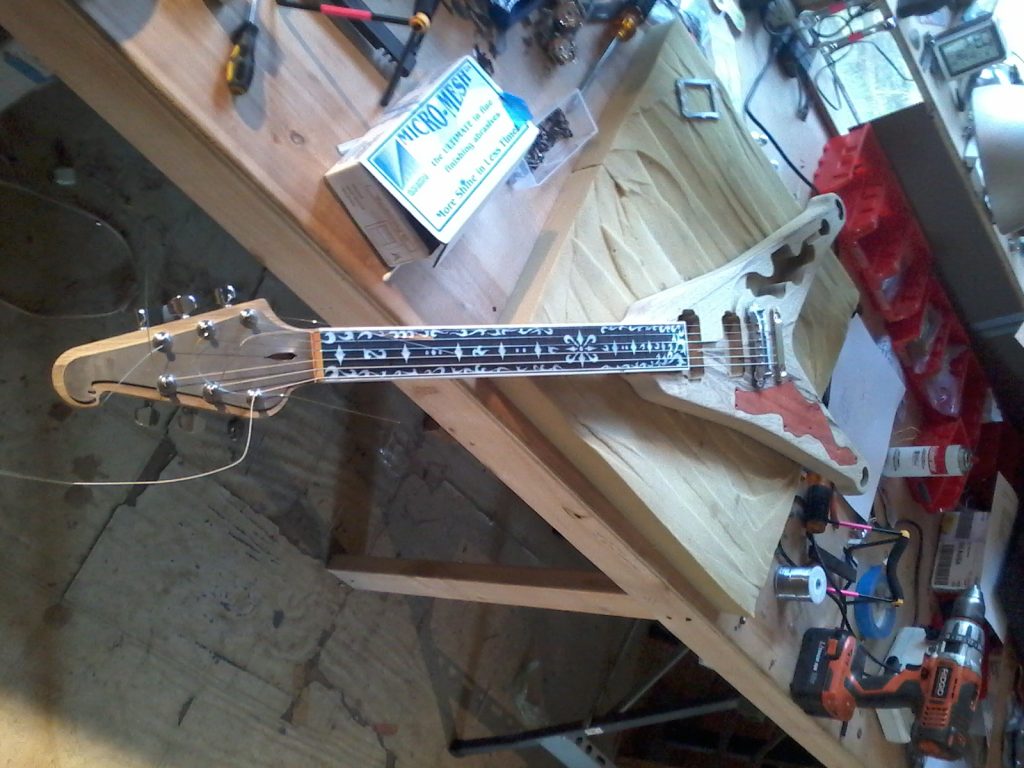 I finished the guitar, to have her ready for my big gig in Austin's park, April 25 2015 (the Eeyore's birthday festival on which my band The Barbarians of Sevilla headlined – last gig with our lead singer Christine, actually the very girl that stained that first Gypsy Arrow) This was Gypsy Arrow #1, the brown one, and she is still mine. The guitar barely was ready, she had bone dust from the fret slot filing still on the fingerboard… I plugged her into my trusty amp, a 1969 Ampeg B-25-B that my bassist Bruce had found in the bulk trash and that I'd restored and modified – hot-rodded – and when I strummed the guitar for a test, my entire band went "WHAAAAT is THAT?!?" So incredibly good was the sound, straight-up from this totally 'green' guitar…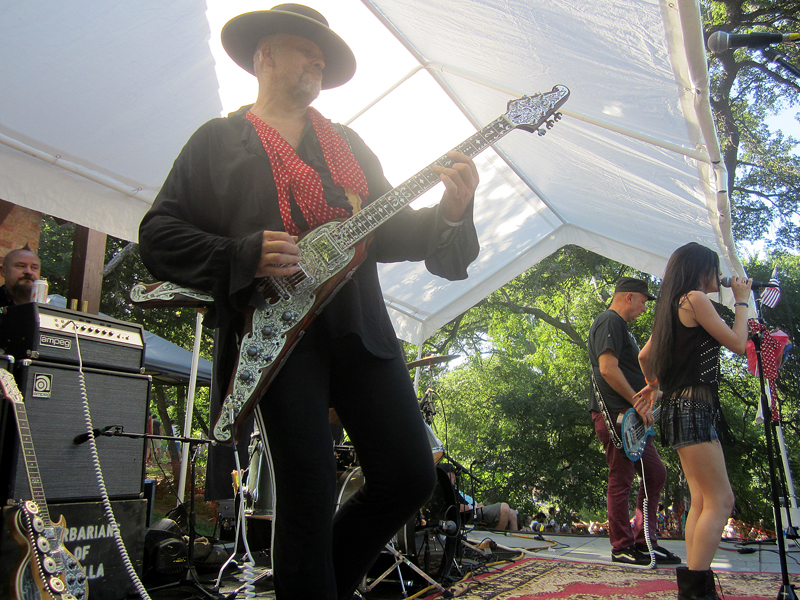 Then, I longed for a more elaborately adorned version, with more of a darker hue. In hindsight I thought the brown one was a shade too 'light' (as in light colored but also as in 'Coca Cola Lite') and I designed a version that would be more like my Konstantinopolis guitar model. Immensely pleased with the sonic result of my first Arrow, I sank the tools into new wood again. Using a design of a contrasting aluminum frame and ebony mosaic that I inlaid with white Mother-of-Pearl and turquoise, and in the end (after using that same technique on my Master Cordoba guitar) I also inlaid small circles of copper. Underneath that all sits the hand-cut aluminum mini-plate that holds the knobs and the switch, which task I did not want the ebony burdened with.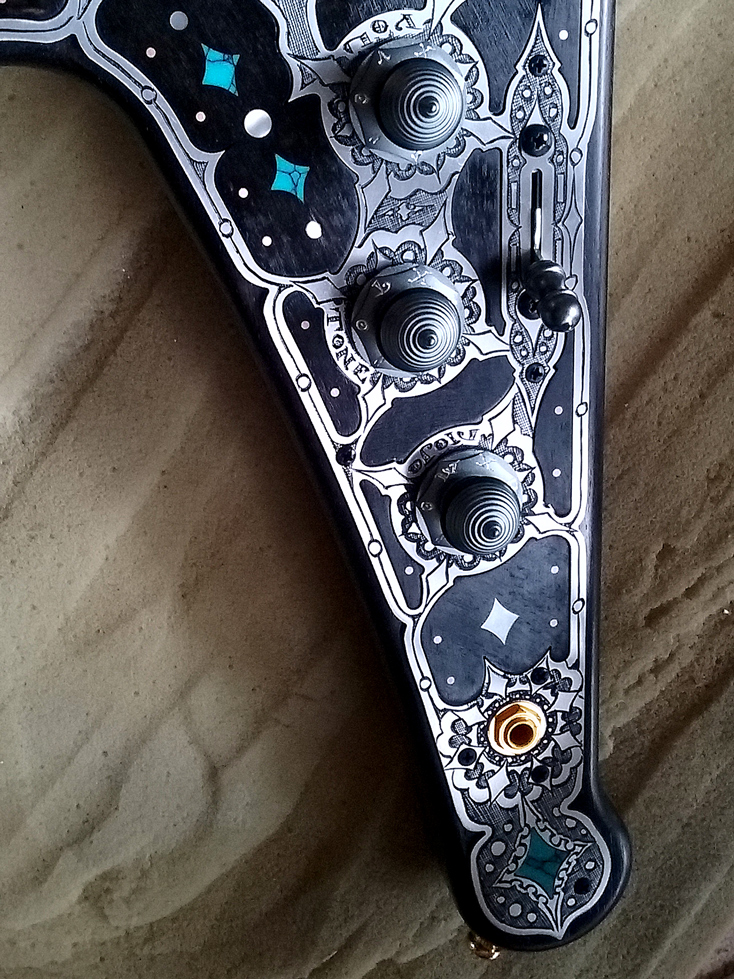 Around this time also I had completed the cut and art files for a 'Emperor' version of that first Gypsy Arrow, and they were being made in our new shop in Nashville, under tutelage of Evert. One was sent to Guitar Player Magazine where she harvested a near-perfect review. Which immediately caught the angry eye of Henry Juszkiewicz (a friend of ours actually WAS in his office when he saw our GPM review – he apparently exploded…) and not a week later, we had a letter from Gibson's lawyers, demanding a Cease and Desist and removal from every trace of Arrows from our web site (with mention of specific pages, so they had looked around my site dilligently)
I used here for the first time the engraving trick of placing elongated half moons around the screw holes (which I had originally planned in the points of the plate) to be engraved, enhancing the 'flamed look' of the plate outline, and to become by deep engraving, almost black, to receive black well-camouflaged screws.
Now, in those days, I would receive 'bonusses' for my hand engraving as it hurt my hands so. And since there was no cash flow, I would instead of cash bonusses receive the right to make certain guitars for myself. In that manner I had just 'bought' for myself a beautiful 'Vampiresas' Konstantinopolis when the Gibson letter arrived and we could no longer sell Gypsy Arrows – combined with the fact that a multi-guitar customer and friend from the Netherlands had just expressed HIS interest in the 'Vampiresas' Konstantinopolis, I suggested to Evert: "Why don't I take the Black Arrow instead?" So Evert sold the Konstantinopolis and I completed the black arrow for myself. I gave her the name Scheherazade, well-known dark haired storyteller that on a nightly basis must save her life by speaking tales compellingly well. A noble task for a guitar, I figured. So this Scheherazade guitar carries engraving on her side panels (yes, side panels!) that says: "The Story better be Good"
Incidentally, Evert had been able to organize an Art Show around my Master Guitars in the prestigious Rymer Art Gallery in Nashville, and obviously the Scheherazade was to occupy an important position in my line-up. So I worked dilligently to have her ready, which I again did in the nick of time, and I flew to Nashville with that guitar, together with Miss Kelli (our key employee, see next allinea) who moved to Nashville with at this time just 2 suitcases…
And thus she became the very last guitar that I ever made in my shop in Manor just outside of Austin, I recall engraving "Last Guitar out of Austin, TX" on the back of the tailpiece cover with pangs of sadness: another chapter in my life came to a close. My wife had fractured her arm when she was visiting her mom in Spain with our daughter in 2009, and if that had happened in Texas then it would have bankrupted us, while as Spanish Citizen (my wife has dual citizenship) she was hospitalized and operated under the Spanish health care system. But now she was revalidating, living in her mother's house, and I was of course eager to rejoin my wife and child there. In the end, in 2016 Evert and I moved the entire guitar operation to Nashville where it is currently. Our key employee moved there too, and of course Nashville is rife with good builders. So currently things are going well, except that the malaise in the guitar industry, along with Gibson's troubles and other lesser-known factors make things extremely difficult for us, which is actually the whole reason I am selling this guitar…
Also in that year I moved to Sevilla where I currently am and have my own shop, to make Masters, and designs. My wife and I were blessed with a son, my daughter is showing great promise as a singer (she also plays piano and guitar) and we are a regular little family!
Anyway, That is the story of the Black Gypsy Arrow. We no longer make Gypsy Arrows, of course, after the rather unpleasant threats of a company who fully well know that we could never survive a lawsuit even if we were 'right'. And this makes me really sad because I truly think it is the best guitar model that I made.
Now the specs of Master Gypsy Arrow Scheherazade 2015:
Body: hand-selected Korina, with a Padauk cap for the acoustic chambers
Neck: hand-selected Korina, with Touareg inlaid Ebony fingerboard
Scale: 25.5″ (for its resonance) with 1.75″ bone nut.
4 strap buttons: 2 to hang the guitar from a strap for perfect balance, the remaining 2 so you can safely rest the guitar on the floor without damaging the finish/wood.
Two special wound Jason Lollar Gold-plated humbucking pickups wired into Teye's hand-made and tweaked MOJO circuitry and 5-way blade switch. Please see accompanying Sound Sheet
Hand-engraved aluminum open frame-type body plate with ebony mosaic with inlay
Hand-engraved by Teye control knobs
Hand-engraved by Teye, proprietary Teye-made Super-Sustain bridge
Hand-engraved by Teye, proprietary Teye Super-Sustain tailpiece
Gold-plated Grover Imperial tuning machines with Teye's proprietary tuning buttons
All engraving hand-done by Teye