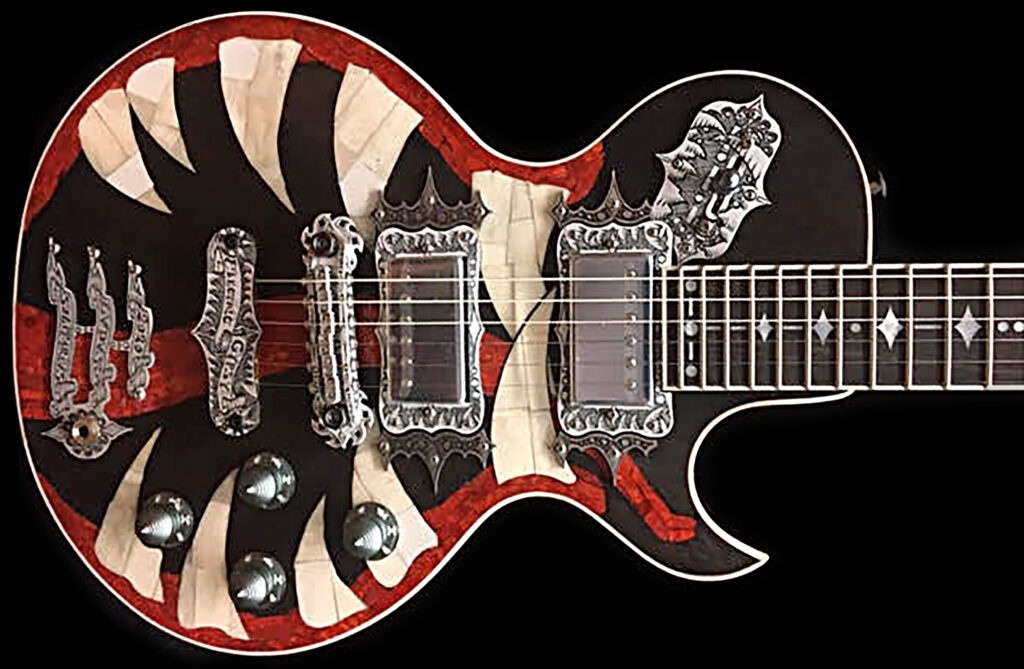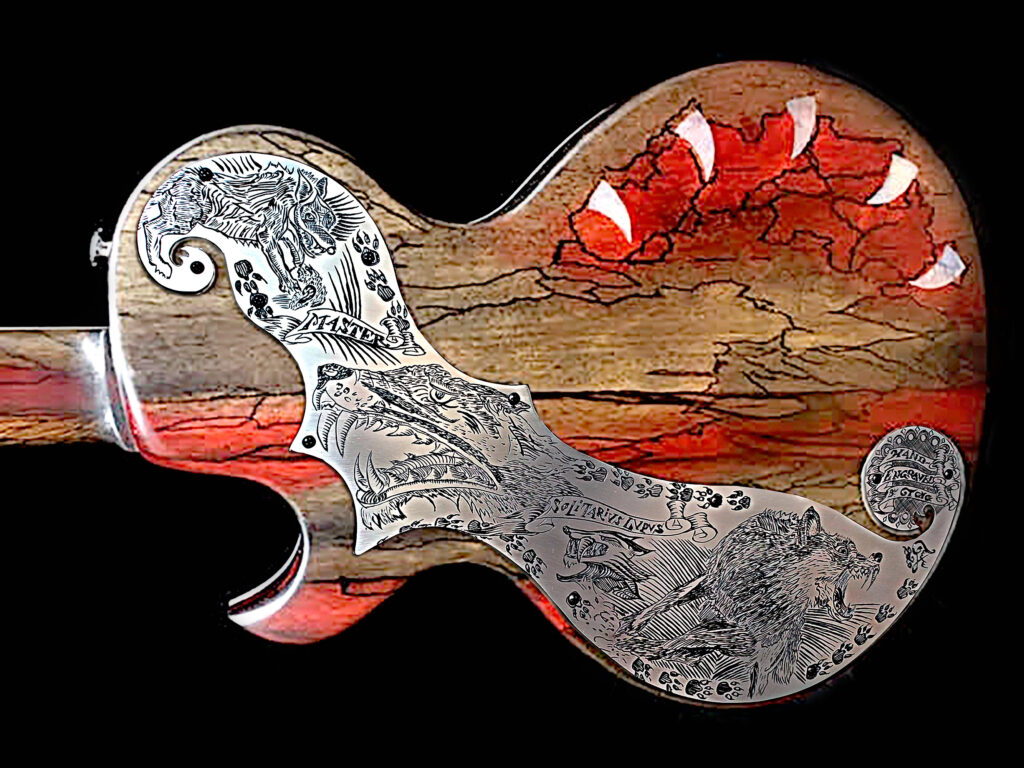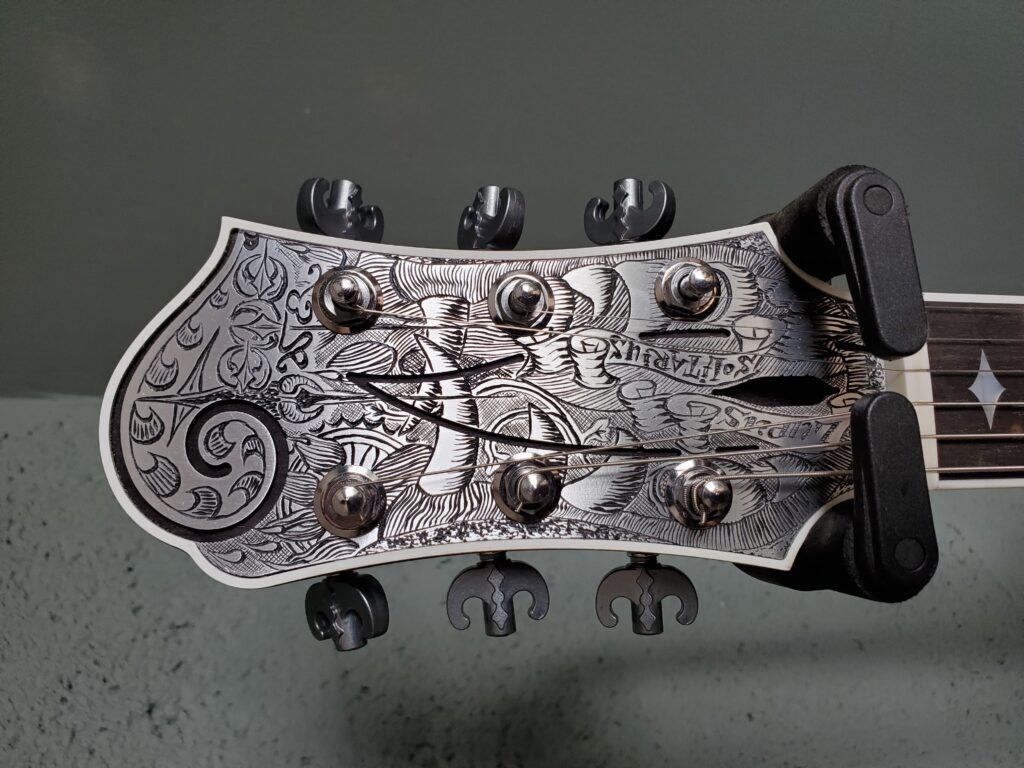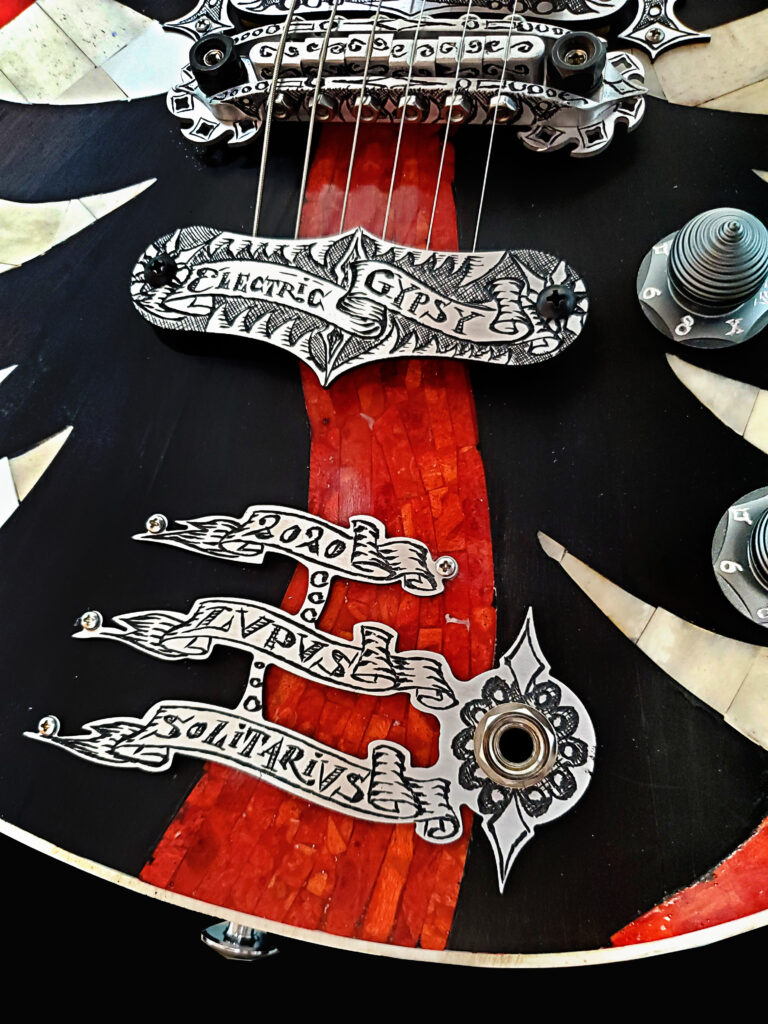 In one of my most prolific periods, I built many what I consider gorgeous instruments, some for customers, others simply because I got inspired. One of the latter was the 2015 Shark which came about because my bench was full of white Mother of Pearl from the Knights Templar, and of Ebony, from making the Cordoba. I can still smell all the dust…
Anyway, back in the days when I would build Airfix scale model planes, the fast propellor interceptors often had shark mouths painted on the fuselage. And I made a guitar to reflect that. To this day I love the way she turned out!
I grew up in the North-Eastern part of the Netherlands, and my father and I would take long long walks in the dark woods and forests. Often thru the driven snow. One Christmas eve my parents and I celebrated by making a long walk thru knee-deep snow thru the forest leading to the castle that was in the next village. With that background, stories of wolves and javelins were told around the campfire, or the wood stove. Many years later a good friend of mine actually had two enormous grey wolves as pets…
So I got to thinking about how to capture this all in a guitar. Starting with the Shark's design of the Mother of Pearl on Ebony, I made the teeth of bone, the gums and tongue of coral, and the background of that great ebony I bought the year before, for my private chess board.
And the rear plate engraving became a tribute to the majesty of this marvelous animal, with many engravings made after splendid pictures that I found. My friend who had the wolves was an activist for this animal and provided me with much useful advice and pictures.
So here she is: The Lone Wolf, or (in Latin) Lupus Solitarius. Is it my imagination or does she really have more bite to the sound?
Well, actually she does but for a different reason: I have updated her in June of 2021 with my newest latest construction upgrades, construction materials, and electric circuit, and the difference was immediately noticeable:
More bite;
More note definition;
Better note-to-note separation;
And thanks to the JuJu circuit a more natural transition to, and more usable sounds from, the 'thinner' settings. To use the words of a virtuoso friend of mine who now owns my best-ever 'La Llama' guitar, the 'Three Sisters' #A-028: "She can sound just like a Telecaster"! Which is not what you'd expect from that guitar.