Conception & Birth of Teye's Queen
Teye says: "I'm a big fan of Jimi Hendrix, of what he stood for, of his beautiful music and of course his breath-taking guitar playing. And I've always wondered why the Jimi-impersonators always play a regular Strat. Jimi himself favored a whole bunch of guitars, recorded the iconic 'Hey Joe' on Noel's Telecaster, and used Flying V's and an SG Custom for the thicker sounds. Nonetheless, of course his main axe was always a flipped-over Strat, and he got the biggest tone out of that Strat that you can imagine.
Jimi could have gotten any number of Left Handed Strats from the Fender factory for free, if he had so chosen. He opted for the so-called 'CBS' version, Right Handed, and swapped the nut around and re-strung them and 'flipped them over' to be his main stage guitars.
The Strat is by no means a symmetrical guitar. When you flip it over and re-string it, you are dealing with a radically different beast. Several half-way flipped-over normal Strats have been marketed over the years, with disappointing results. So I made one for myself, a full-blown LH Strat, and flipped it over, to see how it would compare. The TONE was so magical that I dubbed it the Astro-Caster, as backwards-for-Strat and in hommage to that great Jimi song 'Astro Man' (yeah check out the lyrics to that one…)
When you look at any grand-piano, you'll notice that the low strings are long, and the high strings are short. Look at any jazz guitar, and the tailpieces tend to have the low strings long, and the high strings short, just like the corresponding wave lengths. To this day I wonder why on average  six-a-side headstocks the high strings are long and the low strings are short…
Also, on the Fender style bridge pickups, the high strings sound like ice picks, because of the slant of these pickups. When you reverse the slant, the high strings mellow out while the low strings gain definition.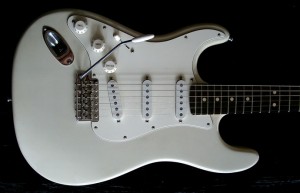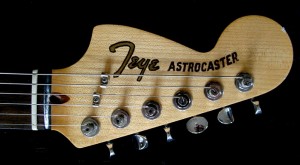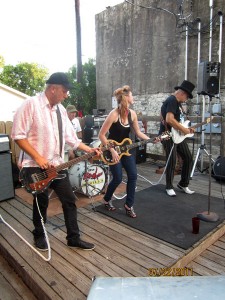 ---
The Gypsy Queen™
Now for a Jimi-Strat-type Tone, but with a non-flipped-over guitar… After about six months of very frustrating experiments and piles of discarded test bodies, I found the formula. From there to a finished, engraved prototype guitar was not such a long stretch anymore.
The original Queen has four single-coil pick-ups, three of which are wired in a traditional way, and then number four is brought in via a filtering circuit by the MOJO-control. People who gave her a chance all commented alike: "Sounds much bigger than a Strat but has all the same shimmer" "This out-Strats any Strat" etc.
Then, someone ordered a Queen with humbuckers, and what a great excuse to experiment with that. This became an incredible sounding guitar! When the Queen re-launches in 2018, there will definitely be a Humbucker version.
Bass
Because of the long upper horn, this instrument will have no nose-dive issues when offered in bass version. The body shape basically begged to be made into a bass as well, which I did, with stunning results. What can I tell you? Carey Nordstrand made a bunch of pick-ups for me as I requested them, and the result is remarkable.
This bass will be re-launched in 2018 in both 4- and 5-string versions.
---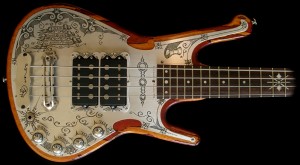 ---
Specs – guitar
Body wood: select Spanish Cedar, with Maple cap on the wood-fronts
Neck wood: select Maple
Fingerboard: Indian Rosewood with the Teye-inlay
Scale length: 25.5"
Nut width: 1.75"
Aluminum plates: Acid/Laser etched
Bridge: Trevor Wilkinson
Tuners: Grover Mini Rotomatics
Pick-ups: 4x Custom-wound Jason Lollar
Electronics: Teye's Proprietary Electronics: Volume; Tone; MOJO™
Control knobs: proprietary Teye knobs and switch tip
Finish: Teye's hand-rubbed Luthier's oil finish with Shipwreck®
Specs – bass
Body wood: select Spanish Cedar, with Maple cap on the wood-fronts
Neck wood: select Maple
Fingerboard: Indian Rosewood with the Teye-inlay
Scale length: 32"
Nut width: 1.70"
Aluminum plates: Acid/Laser etched
Bridge: Teye's Super Sustain bridge
Tailpiece: Teye's Super Sustain tail
Tuners: Hipshot Ultralight
Pick-ups: 2x Custom-wound Carey Nordstrand
Electronics: Teye's Proprietary Electronics: 2x Volume; Tone; MOJO™
Control knobs: proprietary Teye knobs and switch tip
Finish: Teye's hand-rubbed Luthier's oil finish with Shipwreck®